DAVID BOWIE: quarta uscita per i suoi 'Brilliant Live Adventures' (1995-1999)
DAVID BOWIE
'BRILLIANT LIVE ADVENTURES' PART 4 '
LOOK AT THE MOON! (LIVE PHOENIX FESTIVAL 97)'
doppio cd e triplo vinile
disponibile dal 12 febbraio 2021
Iso Records e Parlophone Records annunciano l'ulteriore nuova uscita del progetto DAVID BOWIE 'BRILLIANT LIVE ADVENTURES', una serie di sei live album dagli anni '90, che saranno pubblicati in vinile e in CD come tirature limitate.
Ci saranno anche box speciali in edizione limitata per ospitare l'intera raccolta sia di vinili che di CD. Gli album e i box saranno disponibili solo sullo store ufficiale di David Bowie e sullo store Dig! di Warner Music Group. Ogni pubblicazione è numerata da 1 a 6 rispettivamente sul dorso della copertina di CD e vinili.
La quarta uscita della serie, in pubblicazione il 12 febbraio 2021 in doppio CD e triplo vinile, è "LOOK AT THE MOON! (LIVE PHOENIX FESTIVAL 97)". Registrato live presso The Phoenix Festival, a Long Marston in Inghilterra, il 20 luglio 1997, "LOOK AT THE MOON!" comprende rarità inedite come la cover di Laurie Anderson 'O Superman', che era stata suonata dalla band al festival durante il loro secret show come "The Tao Jones Index' il giorno precedente.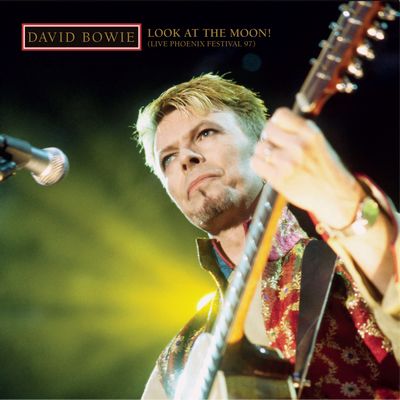 Sul palco hanno suonato:
David Bowie – voci, chitarra, sassofono,
Zachary Alford – batteria,
Gail Ann Dorsey – basso, voci, voce principale in 'O Superman', tastiere,
Reeves Gabrels – chitarra, sintetizzatori, voci, direttore musicale,
Mike Garson – piano, tastiere, sintetizzatori.
DAVID BOWIE – LOOK AT THE MOON! (LIVE PHOENIX FESTIVAL 97) TRACKLISTING

CD 1
Quicksand (Bowie)
The Man Who Sold the World (Bowie)
Driftin' Blues (Charles Brown/Eddie Williams/Johnny Moore)/The Jean Genie (Bowie)
I'm Afraid of Americans (Bowie/Brian Eno)
Battle for Britain (The Letter) (Bowie/Reeves Gabrels/Mark Plati)
Fashion (Bowie)
Seven Years in Tibet  (Bowie/Reeves Gabrels)
Fame (Bowie/Carlos Alomar /John Lennon)
Looking for Satellites (Bowie/Reeves Gabrels/Mark Plati)
Under Pressure (Bowie/Freddie Mercury/Roger Taylor/John Deacon/Brian May)

CD 2
The Hearts Filthy Lesson (Bowie/Brian Eno/Michael Garson/Sterling Campbell/Erdal Kizilcay/Reeves Gabrels)
Scary Monsters (and Super Creeps) (Bowie)
Hallo Spaceboy  (Bowie/Brian Eno)
Little Wonder (Bowie/Reeves Gabrels/Mark Plati)
Dead Man Walking (Bowie/Reeves Gabrels)
White Light/White Heat (Lou Reed)
O Superman (Laurie Anderson)
Stay (Bowie)

LP 
Side 1
Quicksand (Bowie)
The Man Who Sold the World (Bowie)
Driftin' Blues (Charles Brown/Eddie Williams/Johnny Moore)/The Jean Genie (Bowie)
I'm Afraid of Americans (Bowie/Brian Eno)

Side 2
Battle for Britain (The Letter) (Bowie/Reeves Gabrels/Mark Plati)
Fashion (Bowie)
Seven Years in Tibet  (Bowie/Reeves Gabrels)

Side 3
Fame (Bowie/Carlos Alomar /John Lennon)
Looking for Satellites (Bowie/Reeves Gabrels/Mark Plati)
Under Pressure (Bowie/Freddie Mercury/Roger Taylor/John Deacon/Brian May)

Side 4
The Hearts Filthy Lesson (Bowie/Brian Eno/Michael Garson/Sterling Campbell/Erdal Kizilcay/Reeves Gabrels)
Scary Monsters (and Super Creeps) (Bowie)
Hallo Spaceboy  (Bowie/Brian Eno)

Side 5
Little Wonder (Bowie/Reeves Gabrels/Mark Plati)
Dead Man Walking (Bowie/Reeves Gabrels)
White Light/White Heat (Lou Reed)

Side 6
O Superman (Laurie Anderson)
Stay ( Bowie)
Total Page Visits: 819 - Today Page Visits: 1