THE WHO: esce il CD live con l'orchestra. Ascoltalo in streaming
THE WHO
with orchestra live at Wembley
3lp Black, 2cd/blu-ray con Mix Dolby Atmos e 5.1 Mixes, cd e digitale
ASCOLTA LO STREAMING
Il 6 luglio 2019 gli Who suonarono al Wembley Stadium di Londra per la prima volta in quarant'anni.
Il concerto fu l'unica data britannica del loro "Moving On" tour e l'esibizione vide la band accompagnata da un'orchestra di oltre 50 elementi eseguire classici tratti da "Quadrophenia", "Tommy", "Who's Next", "Who Are You" e da "WHO", il loro ultimo album a tredici anni dal precedente "Endless Wire".
The Who With Orchestra Live At Wembley è disponibile in varie edizioni: triplo vinile nero, doppio CD / Blu-Ray con audio remixato in Dolby Atmos e 5.1 e CD con gli highlight del concerto. Tutti i formati presentano un booklet con foto inedite dello spettacolo.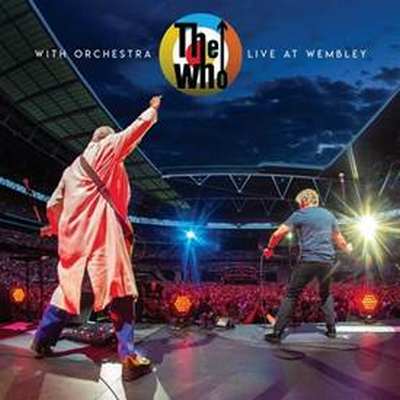 Unire gli Who a un'orchestra in concerto è sempre stato un desiderio di Roger Daltrey "il fatto che siano gli Who con orchestra, non comprometterà il modo in cui io e Pete abbiamo comunicato la nostra musica". Pete Townshend ha dichiarato: "Roger aveva battezzato quel tour Moving On! Lo adoro. È quello che entrambi vogliamo fare. Vai avanti, con nuova musica, musica classica degli Who, il tutto eseguito in modi nuovi ed entusiasmanti. È giusto assumersi dei rischi, non abbiamo niente da perdere".
THE WHO WITH ORCHESTRA LIVE AT WEMBLEY
Pete Townshend Guitar /Vocals
Roger Daltrey Vocals (plus guitar on Eminence Front)
Simon Townshend Guitar/Vocals
Loren Gold Keyboard/Vocals
Jon Button Bass Billy Nicholls Vocals Zak Starkey Drums Katie Jacoby Violin Audrey Snyder Cello
2CD/BLU RAY e Streaming
CD 1
Who Are You? / Eminence Front / Imagine A Man / Pinball Wizard / Hero Ground Zero / Join Together / Substitute (No Orchestra) / The Seeker (No Orchestra) / Won't Get Fooled Again (Acoustic) / Behind Blue Eyes (Acoustic)
CD 2
Ball & Chain / The Real Me / I'm One / Punk & The Godfather / 5.15 / Drowned / The Rock / Love Reign O'er Me / Baba O'Riley / Tea & Theatre (Acoustic)
BLU RAY: ATMOS MIX / STEREO / 5.1
Who Are You? / Eminence Front / Imagine A Man / Pinball Wizard / Hero Ground Zero / Join Together / Substitute (No Orchestra) / The Seeker (No Orchestra) / Won't Get Fooled Again (Acoustic) / Behind Blue Eyes (Acoustic) / Ball & Chain / The Real Me / I'm One / Punk & The Godfather / 5.15 / Drowned / The Rock / Love Reign O'er Me / Baba O'Riley / Tea & Theatre (Acoustic)
3LP SET

SIDE ONE
Who Are You? / Eminence Front / Imagine A Man

SIDE TWO
Pinball Wizard / Hero Ground Zero / Join Together / Substitute (No Orchestra)

SIDE THREE
The Seeker (No Orchestra) / Won't Get Fooled Again (Acoustic)/ Behind Blue Eyes (Acoustic)

SIDE FOUR
Ball & Chain / The Real Me / I'm One / Punk & The Godfather

SIDE FIVE
5.15 / Drowned / The Rock

SIDE SIX
Love Reign O'er Me / Baba O'Riley / Tea & Theatre (Acoustic)
CD
Who Are You? / Eminence Front / Imagine A Man / Pinball Wizard / Join Together / Won't Get Fooled Again (Acoustic) / Ball & Chain / The Real Me / 5.15 / The Rock / Love Reign O'er Me / Baba O'Riley