PINK FLOYD – Dopo il cinema Delicate Sound Of Thunder sarà in home version
PINK FLOYD
DELICATE SOUND OF THUNDER
restaurato. rieditato. remixato.
in uscita il 20 novembre
2 CD/DVD/BlueRay/3 Vinili
In attesa della proiezione cinematografica mondiale (19, 20, 21 ottobre) (Leggi qui) viene già annunciata per il 20 Novembre 2020 l'uscita dell'home version di 'Delicate Sound Of Thunder' dei Pink Floydin edizione Blu-ray, DVD, 2 CD, 3 LP e nella deluxe edition con 4 dischi e bonus track.
In questi diversi formati, l'uscita di "Delicate Sound Of Thunder" racchiude il meglio della band. Insieme al classico live album e al film del concerto (restaurato e rieditato dall'originale pellicola 35mm e migliorato in suono surround 5.1), inclusi nel box set The Later Years, tutti i formati comprendono un foto booklet da 24 pagine, mentre il box da 4 dischi contiene un foto booklet da 40 pagine, un poster del tour e delle cartoline. Il set di 3 vinili da 180 grammi include 9 canzoni non comprese nella versione del 1988, mentre l'edizione da 2 CD include 8 tracce in più dell'uscita originaria.
Nel 1987 i Pink Floyd hanno vissuto una rinascita. La band inglese, formata nel 1967, aveva sofferto la perdita di due co-fondatori: il tastierista / vocalist Richard Wright, che se ne è andato dopo le sessioni di "The Wall" nel 1979, e il bassista e paroliere Roger Waters, che ha lasciato il gruppo per iniziare la carriera solista nel 1985, dopo l'album del 1983 "The Final Cut".
Il guanto di sfida è stato lanciato al chitarrista/cantante David Gilmour e al batterista Nick Mason, che hanno proseguito creando l'album multi-platino "A Momentary Lapse Of Reason", trionfo nelle classifiche globali, che ha visto anche il ritorno di Richard Wright dopo la sua assenza.
Pubblicato in origine nel settembre 1987, A Momentary Lapse Of Reason è stato velocemente accolto dai fan di tutto il mondo, i quali sono accorsi in massa alle date dei tour, iniziato nei giorni dell'uscita dell'album. In più di due anni di tour, hanno partecipato più di 4.25 milioni di fan, al tempo un risultato insuperabile, a dimostrazione del talento duraturo e dell'appeal globale dei Pink Floyd.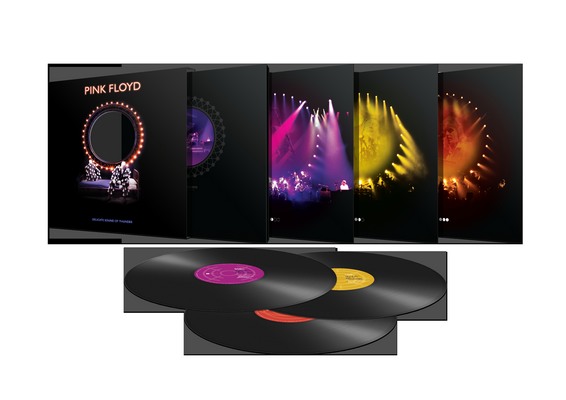 Registrato al Nassau Coliseum di Long Island nell'agosto 1988 e diretto da Wayne Isham, Delicate Sound Of Thunder, filmato nominato ai Grammy, per l'uscita del 2020 è stato direttamente estratto dai negativi della pellicola 35mm originale. I negativi sono stati scrupolosamente restaurati e trasferiti in 4K, e completamente ri-editati da Benny Trickett in una versione restaurata e migliorata, sotto la direzione creativa di Aubrey Powell/Hipgnosis. Allo stesso modo, il sound è stato remixato completamente dalle registrazioni multitraccia originali da Andy Jackson, ingegnere di vecchia data dei Pink Floyd, con David Gilmour dei Pink Floyd, assistiti da Damon Iddins.
Il cast di supporto ai Pink Floyd per le date live includeva: Jon Carin (tastiere, voci), Tim Renwick (chitarra, voci), Guy Pratt (basso, voci), Gary Wallis (percussioni), Scott Page (sassofono, chitarra), Margret Taylor (cori), Rachel Fury (cori) e Durga McBroom (cori).
I crediti dei tecnici includono: i produttori del film: Curt Marvis e Carl Wyant; il direttore della fotografia: Marc Reshovsky; il designer delle luci: Marc Brickman, con il filmato concettuale diretto da Storm Thorgerson, eccetto per 'Money' diretto da Storm Thorgerson, Barry Chattington e Peter Medak. L'animazione su 'Time' è di Ian Emes.
La setlist bilancia con cura quello che era ai tempi nuovo materiale con i classici dei Pink Floyd, tra cui canzoni da "The Dark Side Of The Moon" ("Time", "On The Run", "The Great Gig In The Sky" e "Us And Them"), l'inno e title track di "Wish You Were Here", "Comfortably Numb" da "The Wall" e la catartica "Run Like Hell". La versione in 2 CD include tutte le canzoni da "A Momentary Lapse Of Reason", compresa la potente "Learning To Fly", l'emozionante "On The Turning Away", e la magnetica "Sorrow". Gli altri formati includono una varietà diversa di canzoni – come elencato nella lista dettagliata sotto.
Per Maggiori Informazioni:
Sito Ufficiale: https://www.pinkfloyd.com/Twitter: https://twitter.com/pinkfloydFacebook: https://www.facebook.com/pinkfloyd/Instagram: https://www.instagram.com/pinkfloyd/
LISTA DEI FORMATI TRACKLIST
2-CD EDITION
REMIXATA DAI MASTER ORIGINALI
Booklet da 24 pagine
Include 8 canzoni non comprese nell'edizione 2 CD del 1988
Incluso anche nel The Later Years Box Set
Disc 1 (Part 1)
1. Shine On You Crazy Diamond, Parts 1-5
2. Signs Of Life*
3. Learning To Fly
4. Yet Another Movie
5. Round And Around
6. A New Machine Part 1*
7. Terminal Frost*
8. A New Machine Part 2*
9. Sorrow
10. The Dogs Of War
11. On The Turning Away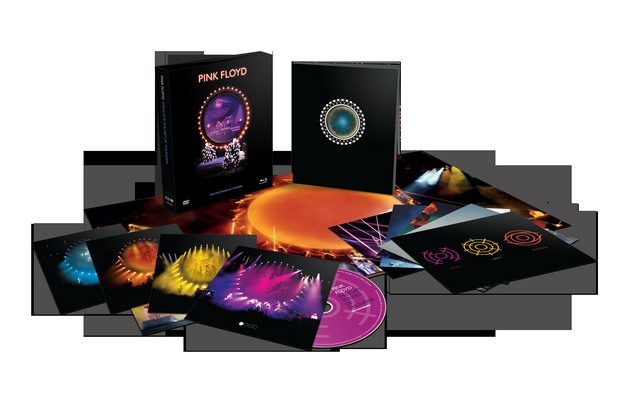 Disc 2 (Part 2)
1. One Of These Days
2. Time
3. On The Run*
4. The Great Gig In The Sky*
5. Wish You Were Here
6. Welcome To The Machine*
7. Us And Them
8. Money
9. Another Brick In The Wall, Part 2
10. Comfortably Numb
11. One Slip*
12. Run Like Hell
BLU-RAY and DVD EDITIONS
RIEDITATA DAL FILMATO 35mm ORIGINALE RESTAURATO
AUDIO REMIXATO DAI MASTER ORIGINALI
Blu-Ray – Stereo PCM 96/24, 5.1 dts Master Audio (96/24)
DVD – Stereo PCM (48/16), 5.1 Dolby Digital (48/16), 5.1 dts (48/16)
Incluso anche nel The Later Years Box Set
24-Page Booklet
1. Shine On You Crazy Diamond, Parts 1-5
2. Signs Of Life
3. Learning To Fly
4. Sorrow
5. The Dogs Of War
6. On The Turning Away
7. One Of These Days
8. Time
9. On The Run
10. The Great Gig In The Sky
11. Wish You Were Here
12. Us And Them
13. Money
14. Comfortably Numb
15. One Slip
16. Run Like Hell
4-DISC BOX EDITION
Il Box Deluxe include 2 CD (23 canzoni), Blu-ray (21 canzoni incluse 5 Bonus Track), DVD (21 canzoni incluse 5 Bonus Track), Booklet da 40 pagine, Poster su due lati, 5 Cartoline
Blu-ray – Stereo PCM 96/24, 5.1 dts Master Audio (96/24)
DVD – Stereo PCM (48/16), 5.1 Dolby Digital (48/16), 5.1 dts (48/16)
RIEDITATA DAL FILMATO 35mm ORIGINALE RESTAURATO
AUDIO REMIXATO DAI MASTER ORIGINALI
2 CD Remixato dai master originali

Disc 1 (Part 1)
1. Shine On You Crazy Diamond Parts 1-5
2. Signs Of Life
3. Learning To Fly
4. Yet Another Movie
5. Round And Around
6. A New Machine Part 1
7. Terminal Frost
8. A New Machine Part 2
9. Sorrow
10. The Dogs Of War
11. On The Turning Away
Disc 2 (Part 2)
1. One Of These Days
2. Time
3. On The Run
4. The Great Gig In The Sky
5. Wish You Were Here
6. Welcome To The Machine
7. Us And Them
8. Money
9. Another Brick In The Wall Part 2
10. Comfortably Numb
11. One Slip
12. Run Like Hell
BLU-RAY e DVD
Blu-ray – Stereo PCM 96/24, 5.1 dts Master Audio (96/24)
DVD – Stereo PCM (48/16), 5.1 Dolby Digital (48/16), 5.1 dts (48/16)
1. Shine On You Crazy Diamond, Parts 1-5
2. Signs Of Life
3. Learning To Fly
4. Sorrow
5. The Dogs Of War
6. On The Turning Away
7. One Of These Days
8. Time
9. On The Run
10. The Great Gig In The Sky
11. Wish You Were Here
12. Us And Them
13. Money
14. Comfortably Numb
15. One Slip
16. Run Like Hell
BONUS TRACKS
Blu-ray: Stereo PCM 96/24 / DVD: Stereo PCM 48/16

1. Yet Another Movie
2. Round And Around
3. A New Machine Part 1
4. Terminal Frost
5. A New Machine Part 2
3-LP VINYL
Vinile 180g, Booklet da 24 pagine, copertina
23 canzoni
Include 9 Songs non contenute della versione 2 LP del 1988*
Vinyl One : Side A
1. Shine On You Crazy Diamond, Parts 1-5
2. Signs Of Life *
3. Learning To Fly
Vinyl One : Side B
1. Yet Another Movie
2. Round And Around
3. A New Machine Part 1 *
4. Terminal Frost *
5. A New Machine Part 2 *
6. Sorrow
Vinyl Two : Side A
1. The Dogs Of War
2. On The Turning Away
3. One Of These Days
Vinyl Two : Side B
1. Time
2. On The Run *
3. The Great Gig In The Sky *
4. Wish You Were Here
5. Welcome To The Machine *
Vinyl Three : Side A
1. Us And Them *
2. Money
3. Another Brick In The Wall, Part 2
Vinyl Three : Side B
1. Comfortably Numb
2. One Slip *
3. Run Like Hell
AUDIO
Prodotto da DAVID GILMOUR
Remixato da ANDY JACKSON con DAVID GILMOUR assistiti da DAMON IDDINS
AUDIO-VISUAL
Diretto da WAYNE ISHAM
Produzione audio di DAVID GILMOUR
Remixato da ANDY JACKSON con DAVID GILMOUR assistiti da DAMON IDDINS
Editor della versione 2019 – BENNY TRICKETT
Direttore creativo dell'edizione 2019 – AUBREY POWELL/HIPGNOSIS
Lighting Director – MARC BRICKMAN
Total Page Visits: 1642 - Today Page Visits: 1